Russian planes flying over American bases in Syria are collecting intelligence and probably sharing that data with adversaries of the U.S. in the region, according to the Air Force's top general in the Middle East. 
Lt. Gen. Alexus Grynkewich, head of U.S. Air Forces Central, said Wednesday that some of the planes were carrying air-to-ground weapons and that all were equipped with sensors that most likely are used to gather info on U.S. positions.
The probability that countries such as Syria and Iran are receiving the Russian-gathered intel is concerning, he added. 
Since late February, fighter jets and surveillance drones from Russia have been flying regularly above U.S. positions in Syria and sometimes have attempted to goad American pilots into dogfights, Grynkewich has said in recent interviews.
Sometimes Russia will send a dedicated surveillance aircraft to fly over U.S. bases, he said Wednesday, adding that he did not have direct evidence of intelligence sharing.
Russian military leaders, meanwhile, accuse U.S. pilots of being the ones violating agreements that separate Syria's airspace, the Saudi Arabia-based Al Arabiya English reported June 1.
A staunch backer of Syrian President Bashar Assad,Russia has a motive to disclose any data gathered from flights over U.S. bases to its allies in Iran and Syria, Grynkewich and analysts said.
Intelligence gathered by Russia could help Iran and its proxy militias in Syria and Iraq find vulnerabilities for future attacks against U.S. troops, Farzin Nadimi, a senior fellow at the Washington Institute, said Thursday.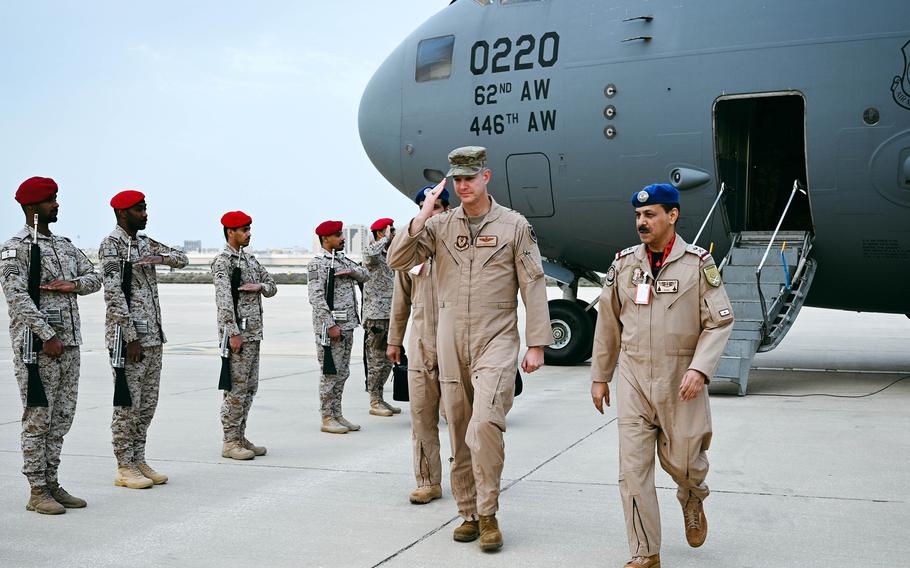 Air Force Lt. Gen. Alexus Grynkewich, commander of U.S. Air Forces Central, is greeted by Saudi air force Maj. Gen. Eid bin Barak Al-Otaibi at King Abdulaziz Air Base in Saudi Arabia on Feb. 4, 2023. Russian fighter jets and surveillance drones have been regularly flying above U.S. positions in Syria, Grynkewich has said. ( Micah Coate/U.S. Air Force)
Some 900 U.S. troops are deployed to Syria in a mission that the Pentagon says is focused on opposing the Islamic State terrorist group. 
Russia, Syria and Iran are coordinating on a planned campaign to launch attacks and expel U.S. troops from Syria, according to a recent Washington Post report based on leaked intelligence reports.
"Moscow is beginning to be more aggressive in its outlook but carefully working with Iran and Assad, and looking to increase the pain on the Americans in Syria because of the U.S. activities in support of Ukraine," Nicholas Heras, director of strategy and innovation at the Washington-based New Lines Institute, said Thursday.
Grynkewich said he could not comment on the leaked documents but said he has seen increased cooperation between Russia and its allies in the Middle East.
"All three of those entities appear to be working together to try to pressure our presence in in Syria," Grynkewich said. 
The complex relationship between Russian and U.S. forces in Syria, both of whom are supposed to share the mission of defeating the ISIS, illustrates the way in which conflicts in the Middle East connect to the rest of the world, analysts have said.
Iran, which traditionally has been a client of Russia, has reversed the usual roles in their relationship by supplying advanced aerial drones and expertise to Russia for its war in Ukraine, according to analysts.
U.S. and NATO officials have said technology seized on the battlefields of Ukraine is being sent to Iran and reversed-engineered for use in the Middle East, CNN reported in March.
"Russia isn't just an acute threat in Europe," said Jonathan Lord, senior fellow at the Center for a New American Security, a Washington-based think tank. "Russia's presence in Syria has enabled Assad's worst atrocities, put U.S. forces engaging in the (anti-ISIS) campaign at risk, and potentially, in coordination with Iran, will hold U.S. forces and Israel at even greater risk."
Source : Stars and Stripes