Amid a stubbornly severe global energy outlook, Prime Minister Fumio Kishida will use his first trip to the Middle East since he took office as a chance to call for political stability in the region and reiterate the importance of stable energy supply chains.
Following a four-day trip to Europe — where he discussed Tokyo's shared interests with NATO and the European Union — Kishida will fly to Saudi Arabia on Sunday for a short tour that will also take him to the United Arab Emirates and Qatar.
Despite the government's ambitious goal to reach net-zero emissions by 2050 and Kishida's plan to procure ¥150 trillion in public and private investment for his signature green transformation initiative, Tokyo remains heavily dependent on fossil fuels and imports 90% of its oil supplies from the Middle East. That makes the region one of critical importance for Japan, said Shuji Hosaka, a board member of the Institute of Energy Economics Japan.
"I think that, even if energy imports keep declining in the future, Japan will still buy oil and natural gas from the Middle East even after 2050," said Hosaka. But bilateral ties will need to evolve outside of the fuel framework, as, for Japan, helping these countries reach their net-zero goals will be crucial for maintaining a mutually beneficial relationship, Hosaka added.
Saudi Arabia, Japan's top oil supplier, depends on petroleum for over 60% of its state revenues and has set a target to reach net-zero emissions by 2060. The UAE's goal is to reach net-zero by 2050.
A group of business leaders from around two dozen Japanese companies will join Kishida on the visit.
Japan aims to support these countries in their efforts to diversify their economies from oil while securing stable energy flows to the archipelago, Foreign Ministry officials said.
Tokyo's role in Saudi Vision 2030 — a grand design by Riyadh to promote Saudi Arabia as an economic and geopolitical powerhouse — will top the agenda for the bilateral meeting between Kishida and Saudi Crown Prince Mohammed bin Salman, scheduled for Sunday evening.
Despite the ire of human rights groups, global leaders have been flocking to Saudi Arabia and the crown prince's regime has been gaining influence abroad. A U.S. intelligence report released in 2021 determined that the crown prince approved the 2018 murder of journalist Jamal Khashoggi, a vocal critic of the Saudi regime, at the kingdom's consulate in Istanbul.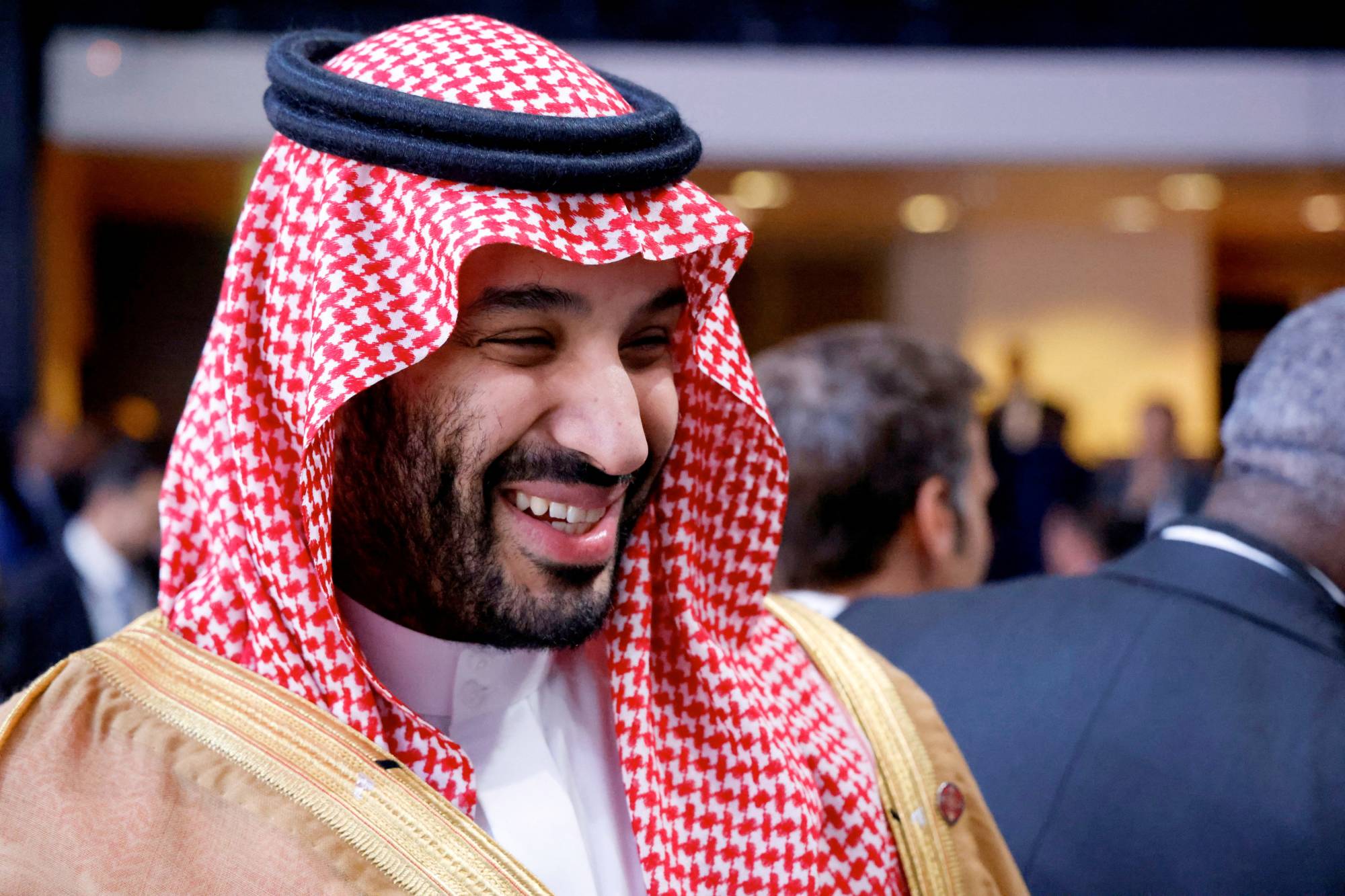 In the UAE, which supplies Japan with approximately a quarter of its oil imports, Kishida will have a chance to discuss a recent agreement over the transfer of defense equipment and cooperation opportunities on energy transition, especially in sectors such as hydrogen and ammonia. The UAE will host the COP28 U.N. climate meet later this year.
Kishida's stop in Qatar, the last of his trip, will mark the first by a Japanese prime minister in almost 10 years. The purpose is to deepen bilateral ties between Doha and Tokyo, with Japanese companies reportedly in talks with local counterparts over the provision of liquefied natural gas.
Whether Kishida can carve out a significant role for Japan in the Middle East as the world undergoes an unprecedented energy transition remains to be seen, but data suggest Tokyo's presence in the region has been declining for years.
International Monetary Fund data show that In 2022, Japan was the sixth-largest importer for Saudi Arabia, down from fourth 10 years ago. On a 10-year basis, the value of Chinese exports to the UAE more than doubled, while Japan's registered a small drop.
Meanwhile, resource-poor Japan – which primarily exports cars to the region — remains heavily reliant on the Middle East.
With Japan's competitiveness shrinking considerably even in sectors where it traditionally has a competitive edge, reversing the current downward trend won't be simple, argues Hosaka. But there might be room for improvement in other sectors.
"The Middle East has a lot of other potential, it's not all about energy," said Hosaka. "In areas such as entertainment and animation, robotics and space, even if not necessarily large in monetary terms, if Japan increases its presence in the region, that will bring the Gulf states closer."
Japanese firms and government agencies have made some inroads on tie-ups in other sectors. Mitsubishi Electric in 2018 cooperated with Es'hailSat, a Qatari space company, in the launch of a communication satellite, while the Japan Aerospace Exploration Agency has been cooperating with its UAE counterpart. However, when it comes to making large investments abroad, Japanese firms are often hesitant to venture beyond the nation's traditional safe havens in the Indo-Pacific region.
On the other hand, China's growing appetite for a larger footing in the region has transcended the business realm, as Beijing seeks to expand its political leverage in the Middle East. Earlier this year, China assumed a fundamental role in brokering a ground-breaking deal between Iran and Saudi Arabia, two countries historically at loggerheads. In December last year, Chinese President Xi Jinping flew to Saudi Arabia for the first China-Gulf Cooperation Council, a multilateral forum designed to strengthen the partnership between Beijing and the Gulf states.
For its part, promoting stable leadership in the region has been Tokyo's primary goal for its Middle East diplomacy and Japan, which also has close ties to Iran, has largely avoided meddling directly in regional disputes or nations' internal affairs.
"Unfortunately Japan has always had very little, if any, political influence in the region," said Osamu Miyata, an expert on Iran and Islamic history. "I don't think right now Kishida is weighing that kind of independent, mediating diplomacy."
Kishida will likely reiterate Japan's condemnation of Russia's invasion of Ukraine, but Japan has yet to demonstrate it can exercise leadership on the matter. The Gulf states have taken a neutral stance since the onset of the conflict and retain close ties to Russia.
Hosaka underlines that, while Japan is undoubtedly trying to play a political role in the region, it's hard to gauge the extent to which the Gulf states are prioritizing Tokyo's involvement. The Middle East lacks a clear role in Japan's free and open Indo-Pacific vision, but is strategically important for China's Belt and Road initiative, due to its location and abundant energy resources.
Crucially, Japan's alliance with the United States has sometimes been an obstacle for any attempt by Tokyo to pursue its own independent strategy in the region. But that might change in the long term, Hosaka argues.
Since the oil shocks of the 1970s, "the importance of oil has decreased considerably. But I believe that there's a chance that, using energy as a pivot, Japan will behave differently than the United States in the Middle East in the future," Hosaka said.
Source: Japan Times